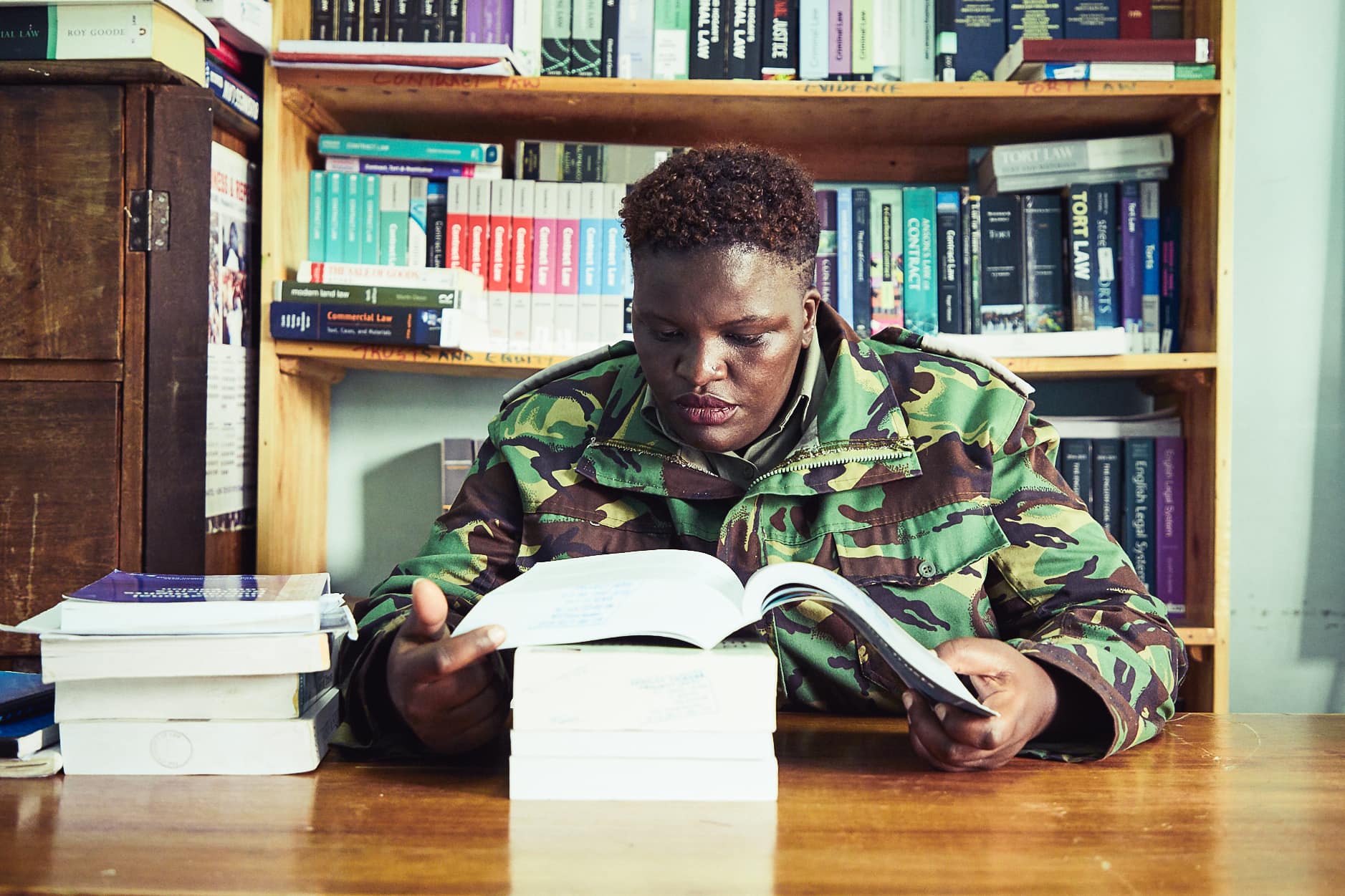 IMPACT | JUSTICE DEFENDERS
Closing the global justice gap by defending the defenceless.
Driving income and doubling in size through brand building.
Justice Defenders is a UK charity, working across four African countries. Their mission is to defend justice with defenceless communities through legal education, training, and practice. In places where 80% of those accused never meet an attorney, Justice Defenders equips thousands behind bars with paralegal training and law degrees. Their work is revolutionary. Their old brand was not. An organization of prisoners who successfully appealed the Kenyan and Ugandan mandatory death sentence looked like – and acted with – a small charity mindset.
Snapping out of the small charity mindset.
"Your brand is shit." One of the charity's largest high-net-worth donors didn't pull punches. He knew a lackluster brand couldn't gain enough steam to close the global justice gap. Future scale would be hampered. And the organization would be stuck in the funding starvation cycle. 
His encouragement – and financial backing – seeded our partnership. The scope of transformation was large. The old name was outdated and had to be changed. The messaging, positioning, and visual identity overhauled. Structured comms and fundraising processes had to be put into place. And the single founder needed a supporting cast of leadership and staff – operating with clear priorities, rhythms, and data around the brand – in order to scale.

"Mighty Ally took great care to know us – from trustees to prisoners. They guided, challenged, and supported us to grow. We can now speak with greater courage and confidence as a community. If Mighty Ally can offer every client just a little of what they've offered us, it's going to lead to a lot of transformation in the world."
ALEXANDER MCLEAN, FOUNDER & CEO
Inside-out brand building for inside-out impact.
Justice Defenders struggled to succinctly articulate their theory of change. The justice problem isn't simple to talk about – or solve. Tension existed between the realities of today and their future ambitions. Should they scale globally? Extend to other defenceless communities? Did advocacy fit into their work?
Through team workshops and facilitated sessions with their trustees, we stripped away the confusion and homed in on a powerful theory of change. To solve the problem of extensive remand and lack of representation, we focused the core outcome on the right to fair hearings. When the ripple effects were tracked, the thread of justice pulled all the way through strengthening society at large.
This theory of change resonated with funders and external supporters. And gave the internal team guard rails and a runway for efficient, accelerated scale.
Traditional funding for justice initiatives is scarce. We had to appeal to fringe funders, and boldness was key. We shifted a perceived weakness to a strength by reframing the defenceless as defenders. A change that put the power of the brand into their hands. Everything about the brand had to answer the call of radical integration. Every decision needed to reflect the broken barriers between 'us' and 'them', guilty and innocent, influential and imprisoned. 
All this strategy needed a place to go. First up: renaming the organization to reflect its vision. Formerly African Prisons Project, we knew this work was neither constrained to Africa nor was it a project. We created and sifted through more than 200 naming options gathered through collaboration with teams around the world. After input sessions with the men and women in prison, Justice Defenders became the chosen mantle.
After the new name came a new visual identity and website, created alongside digital ally Whiteboard. We integrated the donation platform Raisely and built advanced nurturing workflows for all types of donors. In concert with fundraising firm Lemon & Honey, we developed high-net-worth giving circles and donor communities. Strategic end-to-end donation campaigns were deployed throughout the year.
We crafted a messaging platform with ally SixtyEightFeet, to equip a global team to tell the same story with one clear voice. This handbook put words to the strategic decisions made during impact modeling and positioning. And documented the brand's unique way of communicating.
Beyond core messaging, they needed to elevate the voices of the marginalized. This can't happen at a distance, so we created a plan for local and international comms staff to find and amplify stories from the field. To make tangible the mandate of radical integration, we developed a podcast strategy called Unlikely Allies – to convene individuals with different backgrounds and perspectives, engaging them in conversation.
Armed with newfound clarity and confidence, the team needed a way to action, evaluate, and optimize the brand strategy. It started by facilitating their annual planning meeting – using our strategic plan process. Then we crafted a forward-looking accountability chart to map the necessary leadership and staff of the future. We trained the team on setting annual and quarterly priorities that ladder up to the brand strategy. And we coached leaders on reaching those priorities through internal comms rhythms and KPIs.
External dependencies are rarely sustainable. So with the goal of building internal capacity, we focused on growing a team that could execute on the foundation we built. We structured and onboarded key operational, fundraising, and comms staff so they could hit the ground running.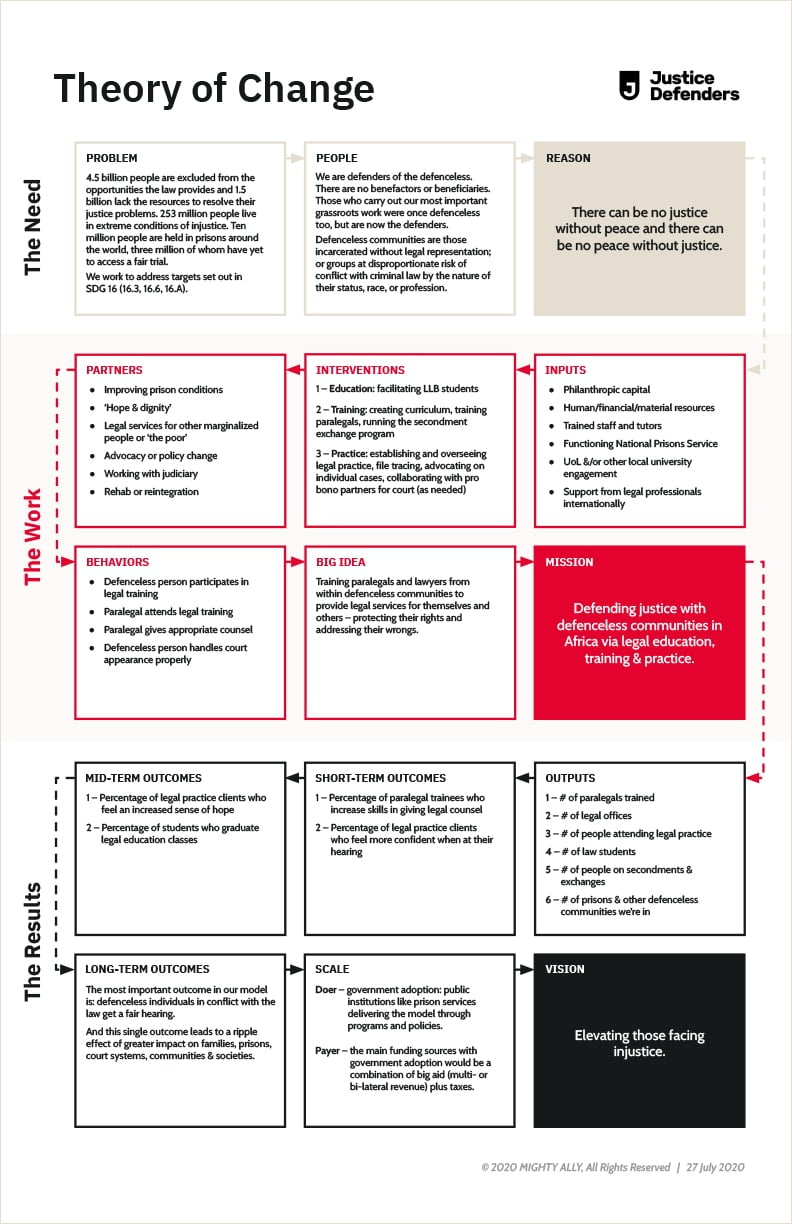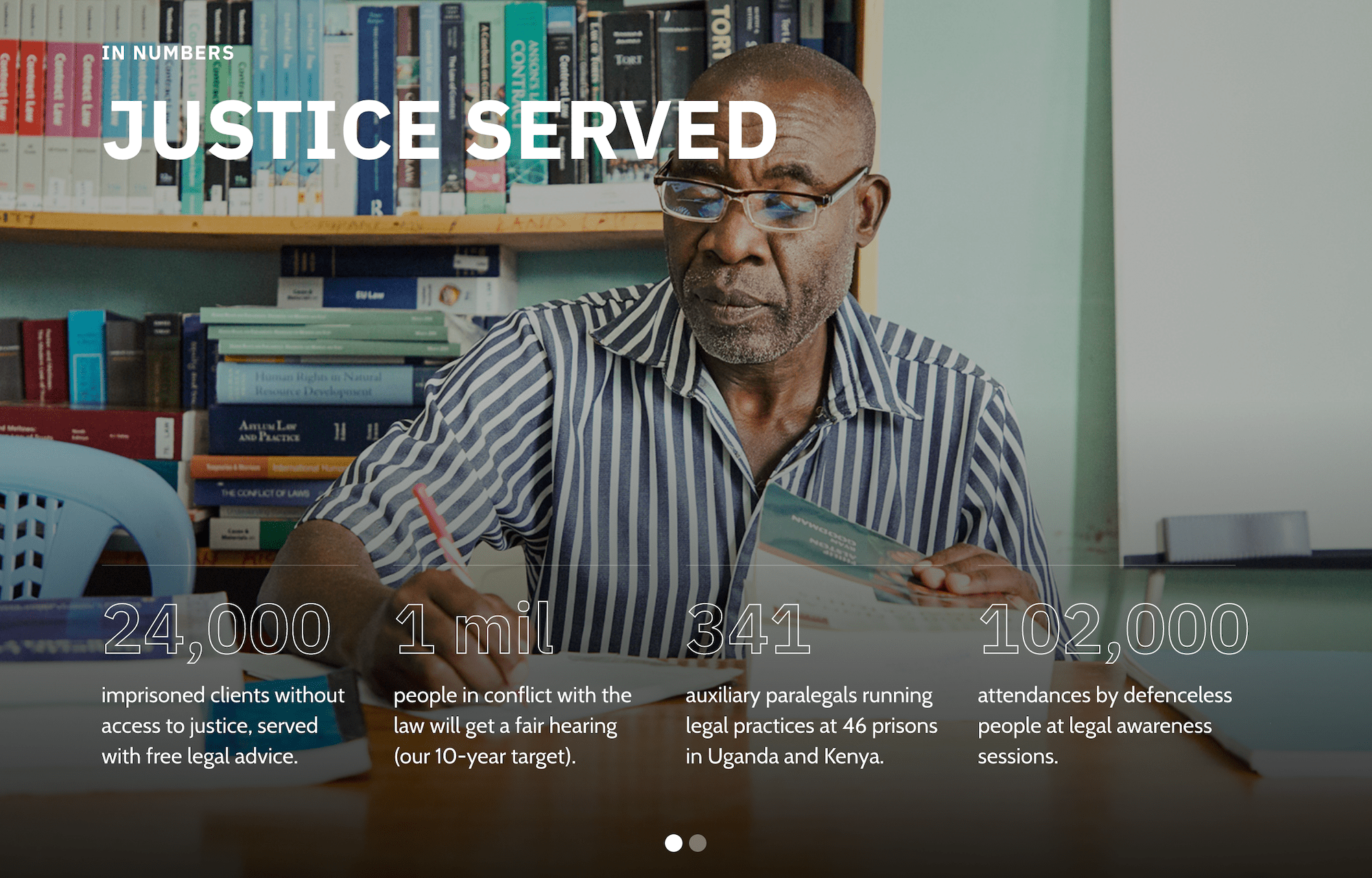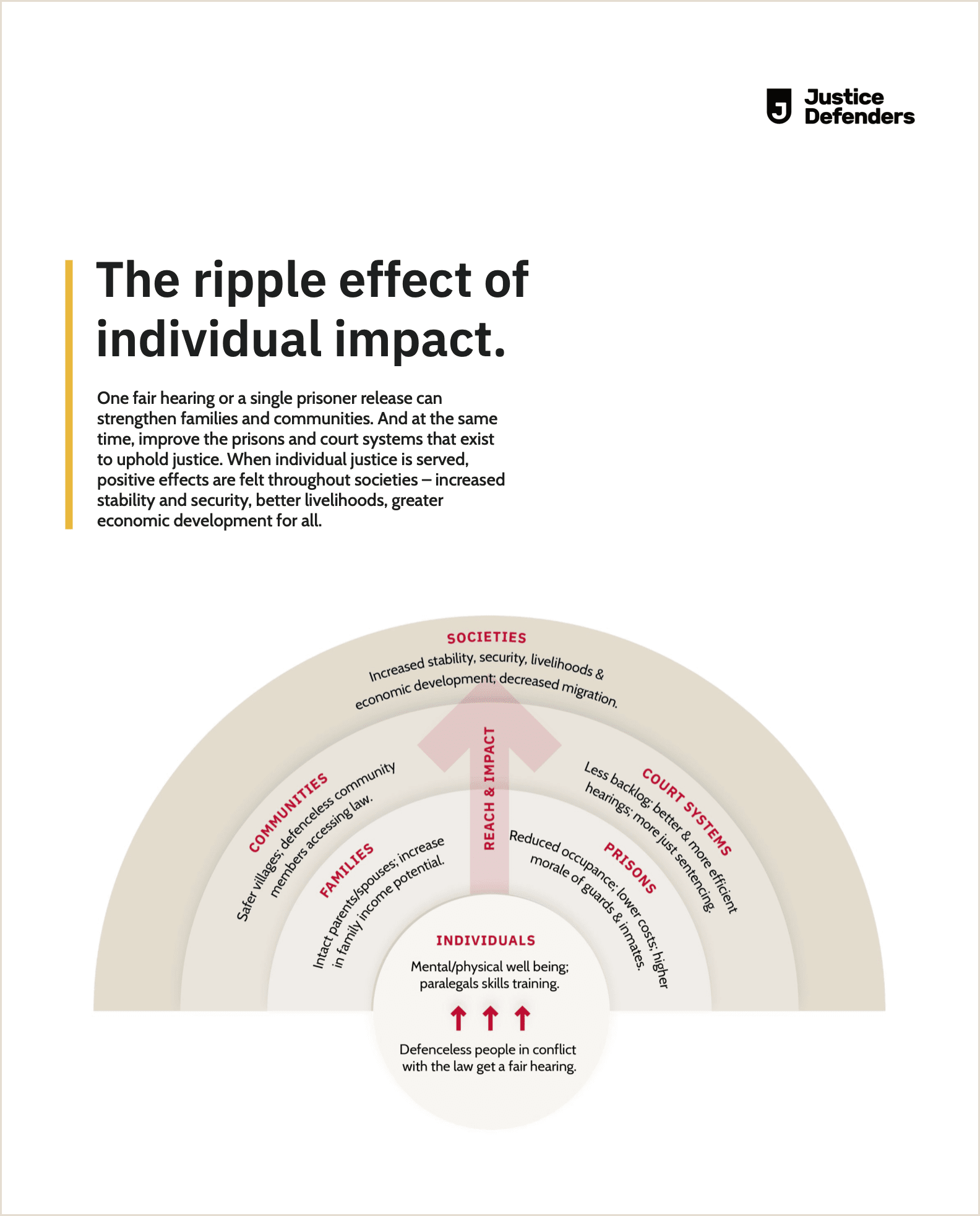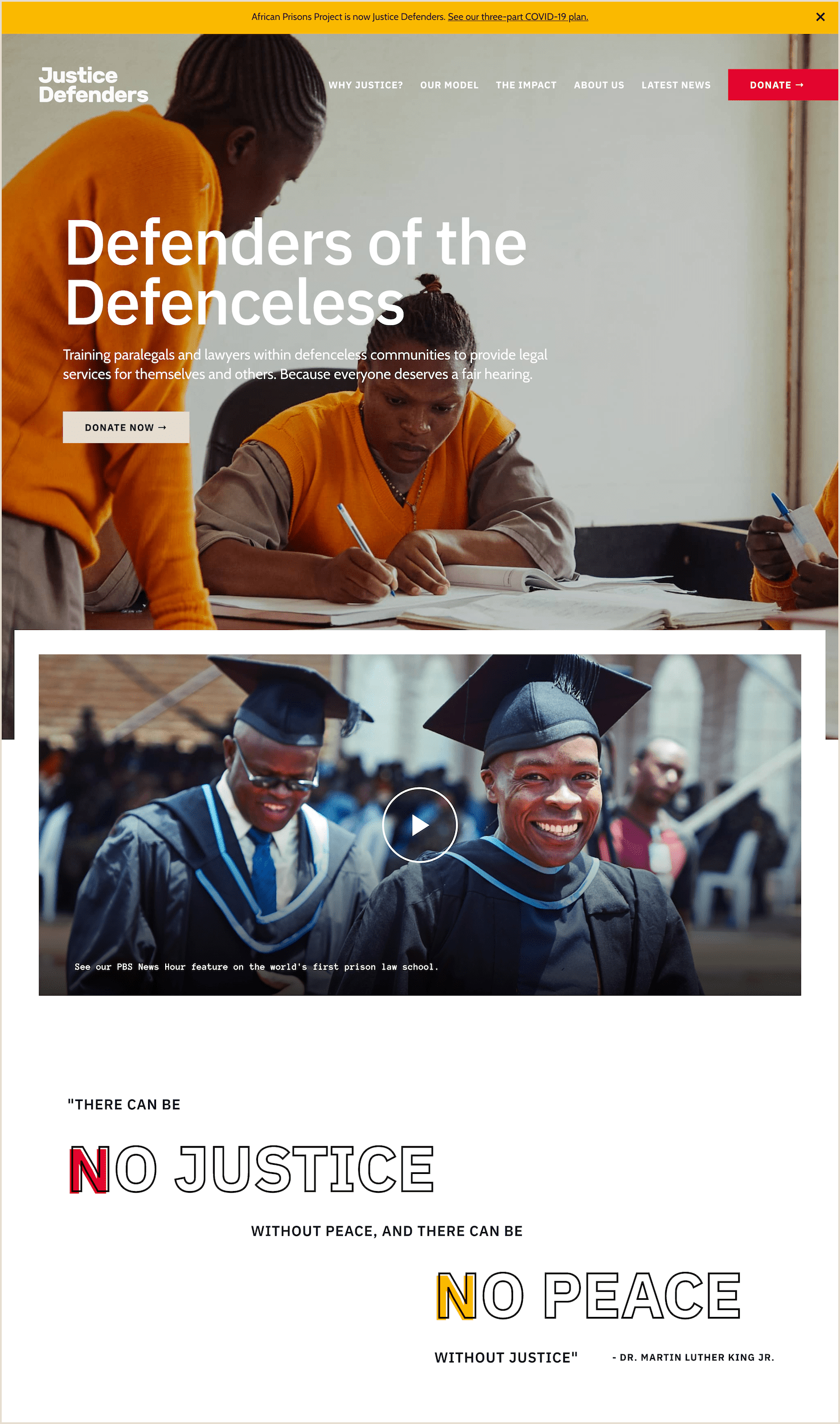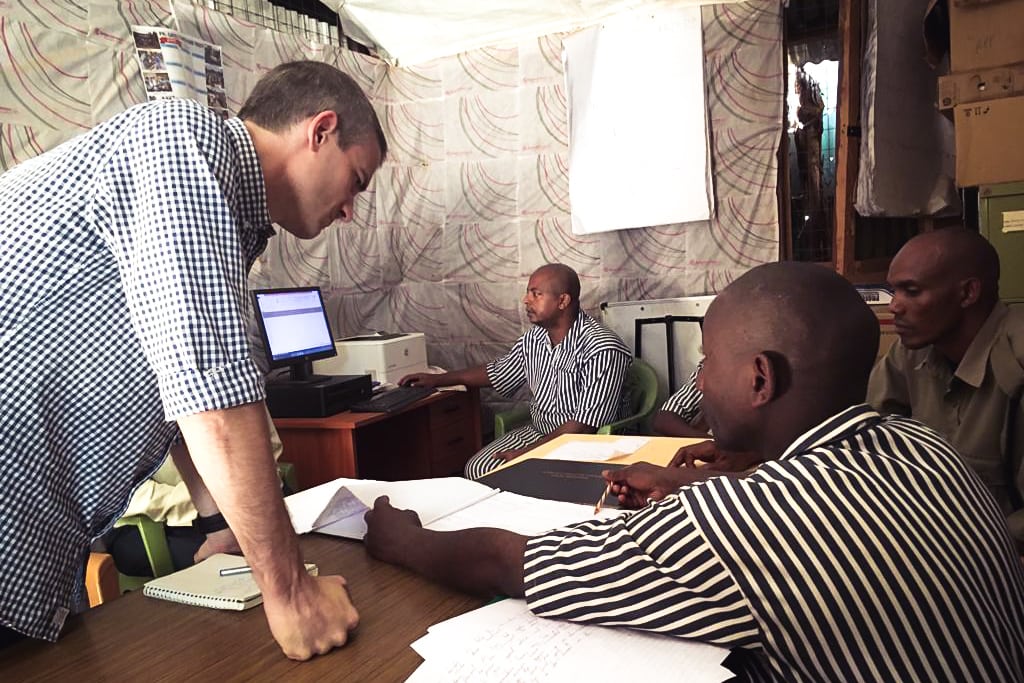 On site in Kenya and Uganda, conducting workshops and stakeholder interviews with prisoners, prison officers, and the Justice Defenders leadership team.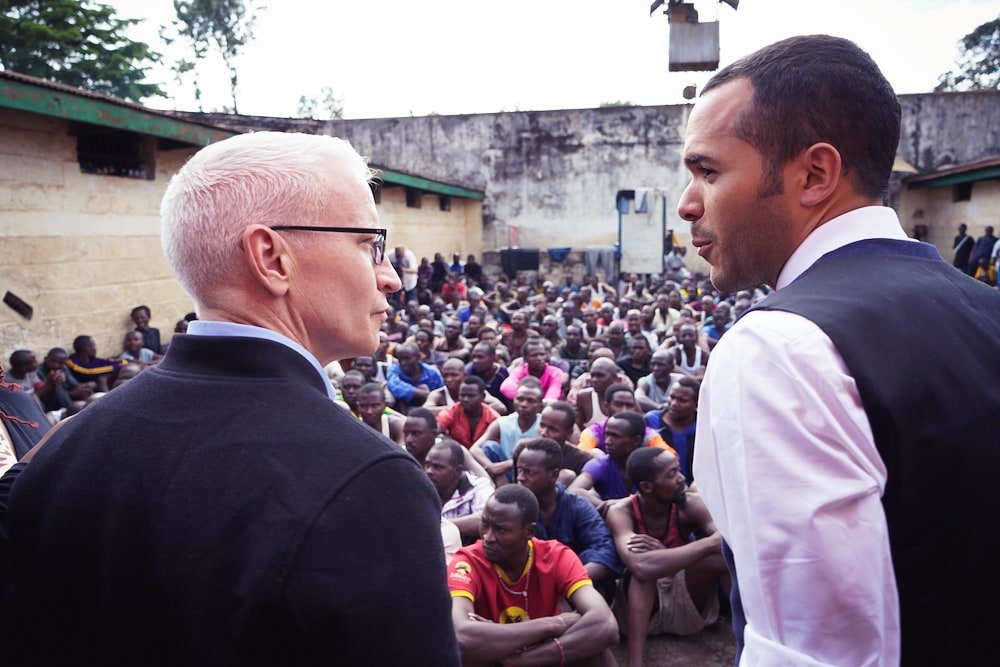 Entering the international spotlight, powered by a global donor base.
In December 2020, the Justice Defenders story reached 11 million people worldwide via America's most-watched news program, 60 Minutes. Viewers were moved by the stories of paralegals and prison guards as told in their own voices and by Anderson Cooper. The moment was a once-in-a-lifetime opportunity, fully maximized. Every element of the brand worked in unison. Kenyan paralegals spoke with clarity on the impact they made, their words aligned with the positioning and messaging. All digital channels and platforms were optimized, with robust nurturing to cultivate lifetime supporters. Institutions and influencers around the world asked to become a part of the work.
Previous financial struggles diminished with new funding opportunities. 2021 picked up where the spike of 60 Minutes left off. The first two weeks of 2021 surpassed all of 2019 online giving combined.
Justice Defenders was invited to speak on CNN's Amanpour show. And racked up nominations and prizes like Lipman, Grinnell, and WISE – paving the path for sustainable growth and tracking towards their goal of one million fair hearings.
Increase in total income, one year after the rebrand
More annual online donations, from five continents
MacKenzie Scott grant – "Thank you for your role in making it happen!"
Donors in the new monthly giving community & high-net-worth club
From the same high-net-worth donor who once said "your brand is shit"
Engagement ROI within two years after the project wrapped
"The marketing and communication changes that you have made are extraordinary. I am so proud of the hard work Mighty Ally and Justice Defenders have done to be so well positioned for this moment."
JENA LEE NARDELLA, CHIEF DEVELOPMENT AND COMMUNICATIONS OFFICER