Four steps on the path towards shared value.
How to prime your company to find profit in purpose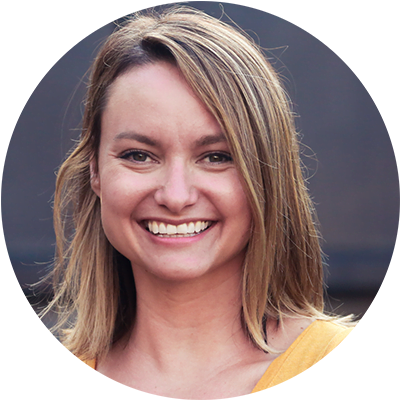 Shared value. This phrase directly challenges the definition of a for-profit corporation. Because, shared value occurs when a business measures success by how it delivers shareholder and societal value.
Imagine that.
The culture of the Western corporation demands short-term generation of profits — the type that fits well within the confines of quarterly earnings calls. Conversely, the systems driving massive disparity and extreme poverty across the globe run centuries deep. And most feel permanently etched into our societies.
No surprise then, that using a modern business framework as a vehicle for social change might feel like a sisyphean task. But, this very same framework birthed the impossibilities of the microchip, blockchain technology, the shared economy, and dippin' dots. So we know that anything — including aligning profit with purpose — is actually possible.
With that ideal in mind and the recognition that its path to realization might be long, uphill, and fraught, what steps can we take (now!) to get us there?
The social impact spectrum.
First, it's necessary to define where your company is on the social impact spectrum. At the far left side of the spectrum, there are brands that think of social impact and delivering societal value within the framework of corporate social responsibility (CSR), philanthropic giving, or employee engagement holiday campaigns. Please don't misunderstand: those efforts are valuable and laudable. But they are categorized as budget expenditures with little to no return on investment generated.

Early in my career, I worked for one of the largest public relations firms in the world. I was assigned to a project for a major brand whose name would be instantly recognizable if I shared it here. Over the course of a six-month project we executed a full-court press publicity campaign. Hundreds of thousands of dollars were invested by our client into this campaign to educate consumers about a crucial and pressing issue. 
The campaign was hailed a resounding success, and it was a source of great back-patting for all involved, as an example of a brand doing good in this world to get the word out for a good cause. 
What was this cause? 
An issue that, when quantified, resulted in less than one death per year over the course of the past few decades. 
Of course: the value of a human life is immeasurable. But I share this anecdote to illustrate the most surface-level manifestation of CSR and to paint a picture of how in many cases, corporate philanthropy is but a vehicle for publicity and brand-awareness marketing.
Real & realized shared value.
At the other extreme of the social impact spectrum — on the far right — lies the business that has found the intersection between social need, business opportunities, and corporate assets and expertise. This transformational concept was first introduced by Michael Porter and Mark Kramer in their seminal 2011 Harvard Business Review article.
Unlike companies that carve out budget for one-way, top-down donations, businesses that achieve shared value have the following characteristics:
They've moved beyond tradeoffs, rejected the binary definition of for- and non- profit, and accepted that a company can make money and make good.
They have a very clear understanding that these types of initiatives can be a real and measurable competitive advantage.
They foster a culture of innovation, and can create new systems and processes within the confines of large and complex internal and external frameworks.
They have a high level of organizational health.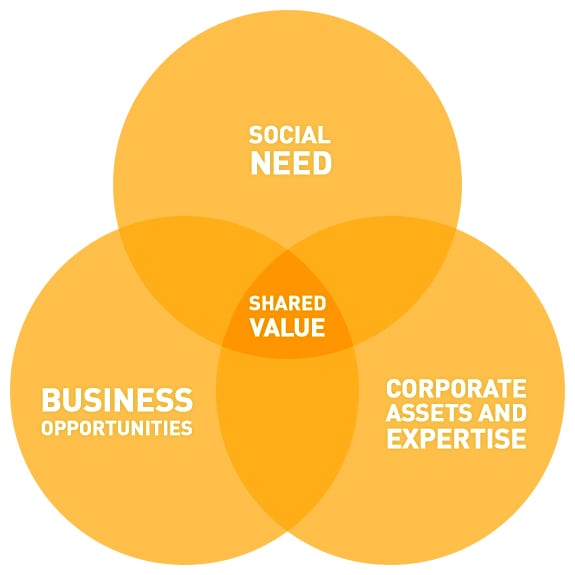 Working outside the spectrum.
Most brands hover in no man's land, not yet on the social impact spectrum.
Over the course of my career, I've been granted an intimate look inside many different businesses, from large corporations to locally owned family businesses. I've worked for consumer brands and B-to-B alike. I've observed cultures that were dynamic, some that were traditional. Organizations that were highly hierarchical, and some that were more democratic. 
However, the one thing they all had in common is that creating any significant change required working within the confines of the existing organizational framework. In most cases, substantial changes required a series of intentional shifts building towards the end goal. 
With this in mind, the following recommendations outline four steps to push your company towards real shared value.
Evangelize the profit in purpose.
According to Giving USA's Annual Report on Philanthropy, U.S. corporations gave a total of $18.55 billion in 2016. This type of giving occurs under many different monikers: cash gifts, charitable giving, philanthropic donations, corporate philanthropy, and corporate social responsibility. It's highly likely that regardless of what it's called, this spend appears on a company's balance sheet as an expenditure with no expectation of a return on investment. 
And in most cases, this giving operates far outside the core business. There might be some overlap with the marketing or human resources function, but otherwise nothing is demanded of it. 
The first step in changing the conversation around corporate responsibility is to re-frame it to one that demands some level of value generation for the budget allocated. In doing so, you also begin to demand the integration of social purpose into the core functions of your business. 
If you're just starting out, you might not have the ability to make the business case for full shared value. Luckily, there are many corporations that have demonstrated tangible success in this arena. The Shared Value Initiative houses a large number of case studies from companies around the world who have demonstrated tangible value of aligning their company's profit with purpose. Kyle Westaway's book Profit & Purpose does a great job diving into a few landmark cases of shared value as well.
There's also brand value to consider. It's no secret that consumers — especially millennials — are savvy and socially conscious. It's no longer enough to talk about values. Companies and brands have to shift from being purposeful to purpose-led. As this Inc. article asks: are you talking at your customers? Or, are you doing something worth talking about?
Important to note: traditional philanthropy doesn't necessarily breed customer trust or improved brand perception. Whether it's a causal or reactive outcome, the companies that top the lists of corporate giving don't necessarily see this reflected back to them in brand value or customer perception.
"It's no secret that consumers — especially millennials — are savvy and socially conscious. It's no longer enough to talk about values. Companies and brands have to shift from being purposeful to purpose-led."
KYLE WESTAWAY
Tear down those walls — and towers!
Achieving shared value requires innovation. And a culture of innovation cannot exist within a siloed organization. Rigid barriers between departments and within a chain of command foster short-sighted decision making — anathema to the rethinking required to reimagine ingrained ways of delivering shareholder value. 
Instead, your organization should seek to cultivate "corporate plasticity," or the ability to collaborate in the pursuit of a common objective and rapidly reconfigure to face new challenges. 
Case in point is this case study of Italian Energy Company Enel. Their successful shared value initiative required the unification of stakeholders from differing environments, circumstances, business lines, and project phases across three levels of its value chain: Business Development, Engineering and Construction, and Operation and Maintenance. As a result, they were able to apply their shared value methodology on over 500 assets in the first half of 2016, and are introducing new technologies, hiring new employees, expanding job training, and discovering new business opportunities worldwide.
So, how to break down both vertical and horizontal barriers within your organization and introduce innovative thinking? If the number of articles and books addressing this question serve as any indication, there's no single magic bullet. 
However, there is one key habit that the healthiest, most communicative organizations share. The ability to listen.
Recently, a friend recounted his experience as a new hire at a regional logistics company. The company's CEO prioritizes one-on-one sessions with each and every one of his 200+ employees, meeting with them a minimum of twice per year. Besides asking for input and ideas on how to improve the organization, the CEO seeks to connect with them on a personal level, adding a dimension of empathy to the conversation. 
Whether you're a CEO or manager connecting with your team, or a member of one department collaborating with another, finding a way to achieve shared common ground and shared understanding is the solid step towards realizing shared value. 
"For Enel a shared value approach is key to opening new business opportunities by addressing social and environmental challenges in all phases of the value chain. An inclusive approach allows communities to benefit from our presence by developing the local economy for the long term, while ensuring efficient business solutions in Enel's commercial and industrial activity."
FRANCESCO STARACE, CEO ENEL GROUP
Find impact partners with purpose-to-purpose alignment.
Just as there has to be an exchange of ideas and mutual goal setting among company departments, dissolving boundaries between your organization and external partners is also critical on the path to shared value. 
As you orient your organization towards social impact, assume one thing: some individual or nonprofit organization already has an intimate understanding of the issues, the community, and the complexities related to your initiative. So seek them out and aim to collaborate.
A good litmus test for assessing the mutual benefit of the partnership (you're looking to achieve shared value, after all) is to ensure purpose–purpose alignment between your company and the partnership organization. If we define an organization's purpose as its core reason for being, and there's overlap with a potential partner, the opportunity for mutual benefit is greatly enhanced. 
When the multinational brewing and beverage company SABMiller wanted to solidify and grow their market share in South America, they partnered with international nonprofit Fundes to intimately understand the mom-and-pop shops throughout their market. 
SABMiller's purpose is: to do business in a way that improves livelihoods and helps build communities. Fundes' stated mission is to promote the competitive development of micro- enterprises in Latin America, which serve key economic and cultural functions in their communities across the continent. 
As they started to understand the role that these shop owners played in their community, SABMiller and Fundes designed and implemented a training program to grow the business and leadership skills of the owners. In turn, SABMiller was able to increase their sales in Latin America and demonstrate other measurable benefits to the business. 
When JP Morgan Chase set out to grow the impact investing market, they partnered with The Nature Conservancy to launch an investment platform that aims to attract financing for global conservation efforts. Unsurprisingly, the vision of The Nature Conservancy — a world where the diversity of life thrives, and people act to conserve nature for its own sake and its ability to fulfill our needs and enrich our lives — finds alignment with JP Morgan's stated belief that it has the responsibility to use their expertise and resources to invest in communities and help them address the social and environmental challenges they face. 
"What social impact partnerships will look like on the ground will vary from place to place. Maybe wildly so."
KRISTON KAPPS
Without the ability to measure business value, shared value can't exist. Its very definition is predicated on its measurement. 
In my career as a marketing professional, I can tell you that more often than not, success is determined on loose, qualitative success measurements vs. hard and fast data. In other words, business decisions around marketing spend and strategies aren't always based on real measurements or real data. 
It's easy to invest time and capital into strategies with no mechanisms in place to measure success or prove business value. I know first hand how much time and effort it can take to even execute measurement activities. But I cannot stress enough the importance of framing social impact within quantitative measurables. Without it you have no way of understanding if what you're doing is actually making a difference. 
Additionally, these KPIs must deliver actual value (i.e., money) to your organization. If outcomes are measured in good feelings, marketable case studies, and other so-called vanity metrics, you run the risk of keeping your organization firmly mired on the "publicity stunt" left side of the social impact spectrum. 
The reason many for-profit organizations fail to achieve shared value is because it is — to put it bluntly — difficult to achieve. At least within our current paradigms of business. Our business school strategies, measurement goals, and organizational habits are often set up to counter many of the principles that shared value demands. 
However, I firmly believe we have the responsibility to try. The world (and our customers!) will soon require it of us as a way to remain competitive and differentiated as we move into the future.
Peter Drucker agrees: 
"The 21st century will be the century of the social sector organization. The more economy, money, and information become global, the more community will matter. And only the social sector nonprofit organization performs in the community, exploits its opportunities, mobilizes its local resources, solves its problems. The leadership, competence, and management of the social sector nonprofit organization will thus largely determine the values, the vision, the cohesion, and the performance of the 21st century society."
PETER DRUCKER
The good news is this: in order for norms to shift, change must take hold at the grassroots level. No matter your company or your role within it, there are actions that we can take in order to drive our companies towards achieving a greater purpose while also realizing financial gain.