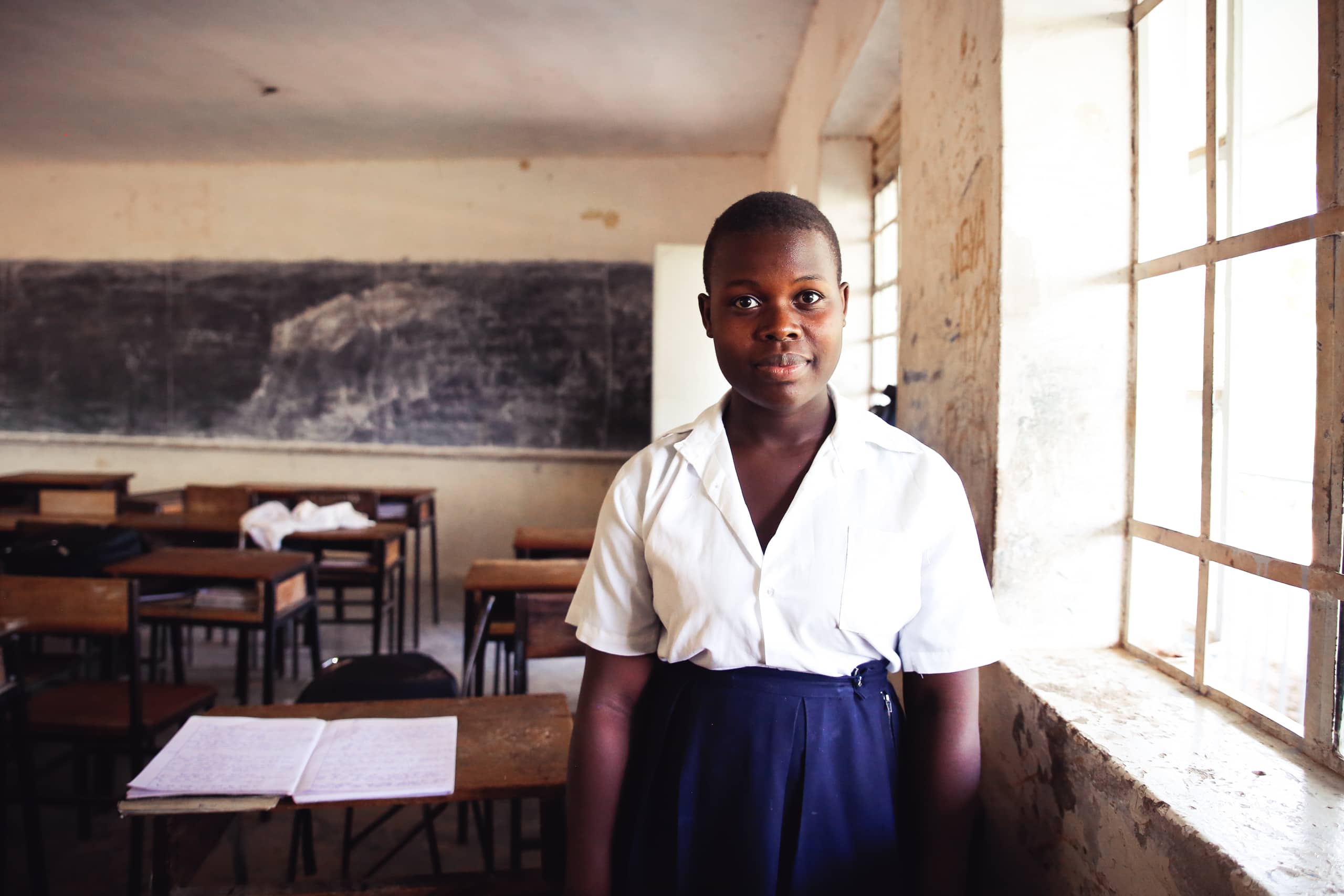 Tackling the learning crisis through intrinsic motivation.
A distinct brand identity and strategic comms to help education NGO break through the noise.
Since 2012, STiR Education has been making waves in global education reform, with their work demonstrating promising results in scale, reach, and sustainability. But the public face of this charity didn't yet match the innovation, energy, and rigor of their work. If they were to make the leap from growth-stage to international replication, they needed a polished brand and marcom strategy that would trumpet their ideology and model to the rest of the world.
Teachers hold the key to unlock learning.
We're in the midst of a global learning crisis. 132 million youth are out of school. 102 million students lack basic literacy skills. In places like Sub-Saharan Africa, only 50% of teachers have the minimum required training. The impact of this plays out over the course of a child's life as diminished income, health, and productivity – a societal cost of around $129 billion per year.
The education sector is attacking the issue from all angles with trillions of dollars. Innovations in access, attendance, technology, and curriculum are widespread. But the bulk of these reforms focus on the 'seeds' of learning, with not much attention paid to the conditions of the 'soil' in which they are planted.
STiR develops intrinsically motivated education systems by deploying principles of motivation science to reignite a love of teaching – important in contexts where the profession is undervalued and unsupported.

Mismatched identity and credibility.
When we met STiR, their results in Uganda and India were promising and their breadth of programming impressive.
But they wanted to grow. Not just in reach – but as a strong voice in the sector, pushing to develop government education systems that support intrinsically motivated teachers. Their point of view was fresh and bold. But STiR easily got lost in the crowd of education NGOs. Their outdated corporate identity, stale website, and lengthy, intermittent communications didn't reflect or reinforce their programmatic rigor and continuous cycle of innovation.
Their greatest strength on the program side – constant reflection and reinvention – proved to be a weakness on the comms front. The team was working across 70 districts in two countries, and they were disjointed when it came to alignment around a single, cohesive voice. They were hungry for comms tools, plus the clarity that comes with a strong brand.
Uniquely, STiR had millions in annual funding nearly guaranteed. And they relied on zero individual donors. Converting new funders wasn't the primary challenge – it was growing relationships with government officials and reaching international influencers.
"Mighty Ally doesn't presume to know every answer, but leans hard into their deep expertise and understanding of the sector to make strategic recommendations we can trust. Our organization, impact, and confidence in communication are all the better for it."
SHARATH JEEVAN, FOUNDER & CEO
Discipline to align, storytelling to amplify.
Theory of change & positioning
We spent nine days in India, met with teams in the U.S. and Uganda, workshopped together in London, and logged hours in conversation with board members and key stakeholders.
Using our Four A's framework for brand, we led the STiR team to articulate their organizational ambition through concrete definition of their reason, values, mission, and vision. We also helped them craft their approach – including their differentiators, target audiences, promises, and brand personality.
Once we identified these strategic guideposts together, we were equipped to create a compelling visual identity and storytelling assets. We leveraged archetype exercises to uncover STiR's brand character: the Inventor. Equal parts creative ideator and rigorous implementor, this custom archetype suited their 'mad scientist' personality more than the standard choices. And it fueled the inspiration behind their new energetic look and feel.
STiR's original brand had some level of in-country recognition. So our agency ally Ballyhoo Blue Workshop created an evolved logo and identity system banking off the color and letterform of the existing version. We augmented the bold red with an extended palette that resonates across Asian and African contexts. Savvy typography and photo guidelines formed a polished and professional foundation. And hand-drawn illustration accents spoke to STiR's dynamic qualities and referenced the hands-on energy of a classroom.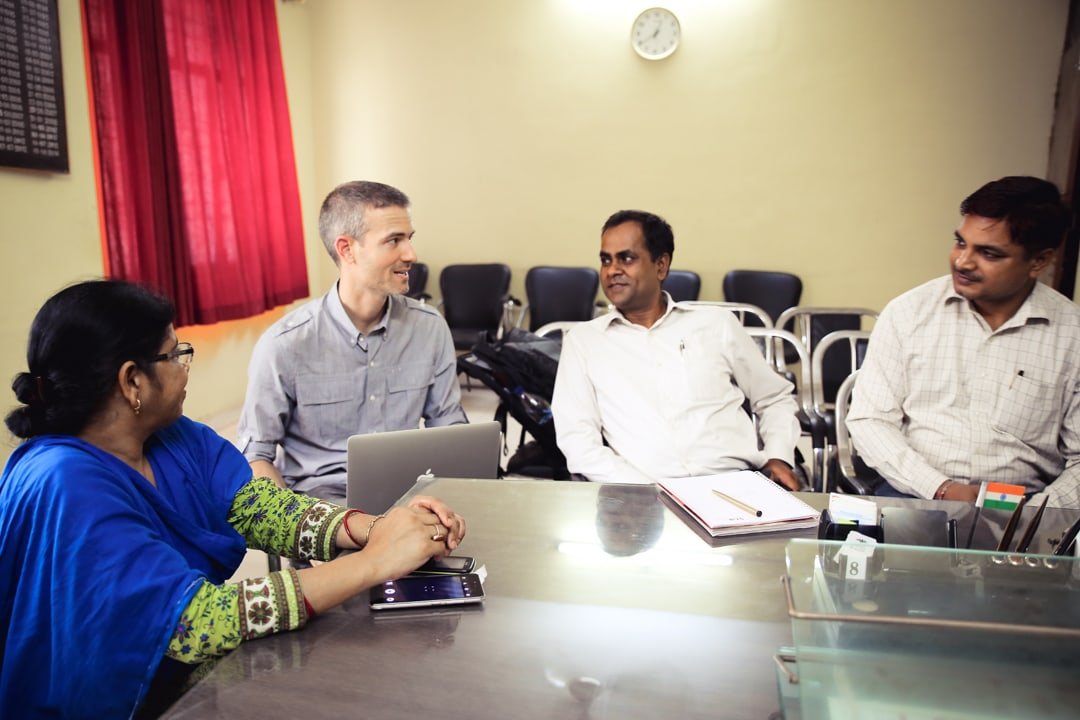 On site in India, conducting workshops and interviews with the STiR leadership team, teachers, and key stakeholders.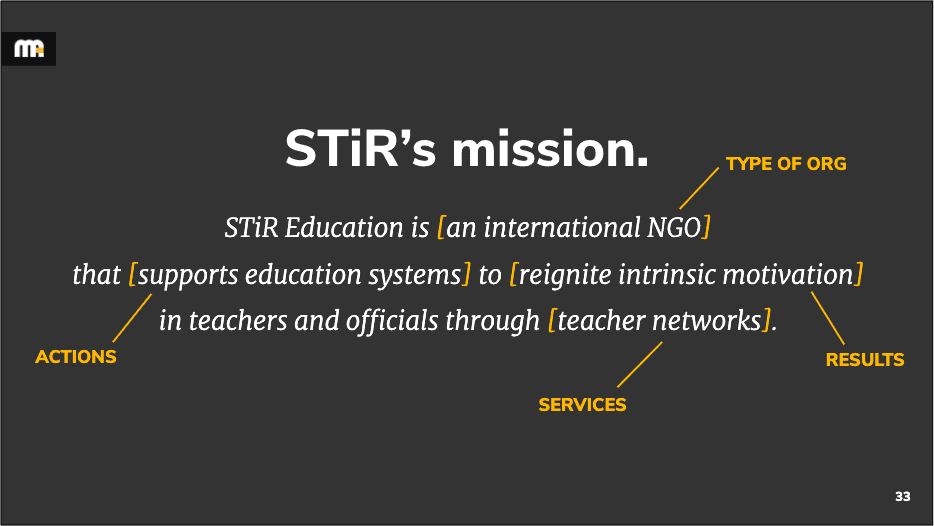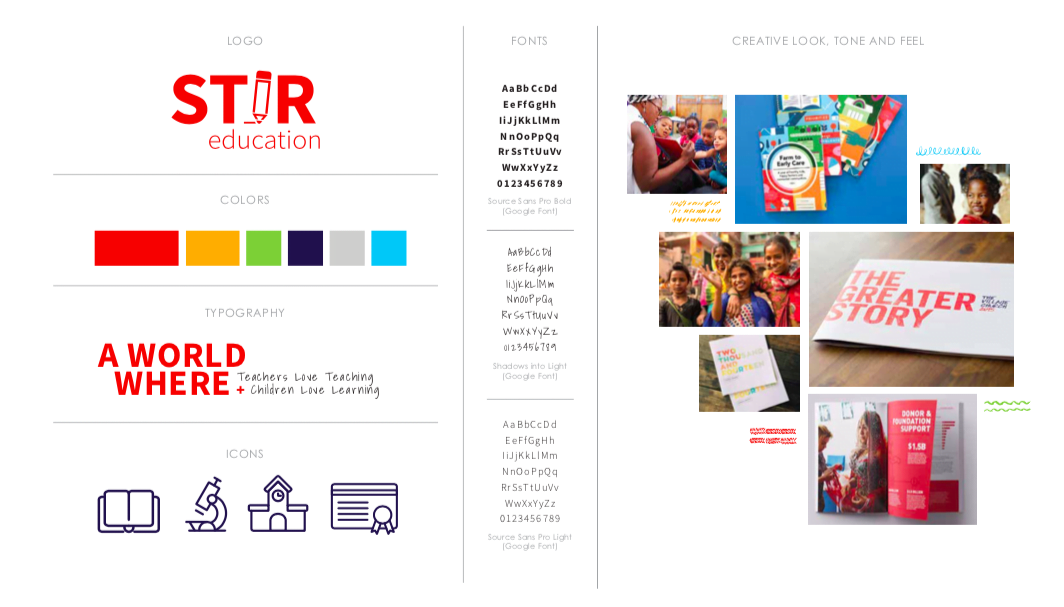 Strategic planning & marcom
With a strong brand character and visual identity locked, it was time to develop communications and storytelling touchpoints – from the bottom up.
Alongside ally Regency Creative in London, we designed and launched a new website – one with a strong mandate to communicate the what and the why of intrinsic motivation and to explain how and where STiR's model works. From interactive maps and engaging photography to simple infographics, everything needed to hinge on the new brand and Inventor personality. And be easily updated by internal staff – a key principle that avoids reliance.
With a complex topic like intrinsic motivation, visual media is often the best choice for communicating an organization's what. So, we worked alongside Ballyhoo to develop a script and animated 'explainer' video.
But, a brand is only as good as its ability to be consistently and effectively used. This was particularly challenging for a team spread across eight international offices and myriad cultural contexts. So, we produced a series of tools to align the team around the brand strategy, ensure comms consistency, and guide the appropriate application of the new visual identity.
Brand blueprint: to provide a handy at-a-glance summary of the brand strategy
Messaging platform: to ensure all team members are speaking the same language
Brand guidelines: to give clear direction on how and where to use the new brand elements
Templates: to produce future high-quality comms outputs like reports, presentations, and biz cards
Training: capacity-building for internal teams to ensure tools are applied appropriately
And once the brand strategy, comms tools, new website, and storytelling extensions were out in the world, it was time to plan for and deploy a series of strategic communications that would amplify their voice on the global stage.
We supported a strategic marketing plan, where daily tactics laddered up to campaigns that laddered up to high-level goals and big ideas. We prioritized key messages to be deployed across owned and earned channels – mapping talking points to priority audiences. And we set up the new comms team with an analytics suite to closely monitor data and capture insights in a custom marketing KPI dashboard.
From email newsletters and website blog posts, to targeted media lists and public relations support – we worked alongside STiR to ensure their message would be heard by funders, subject matter experts, and potential government partners. With a limited marcom budget like most nonprofits, this sum-of-the-parts approach bolstered STiR into the global education conversation more than any flash-in-the-pan campaign ever could.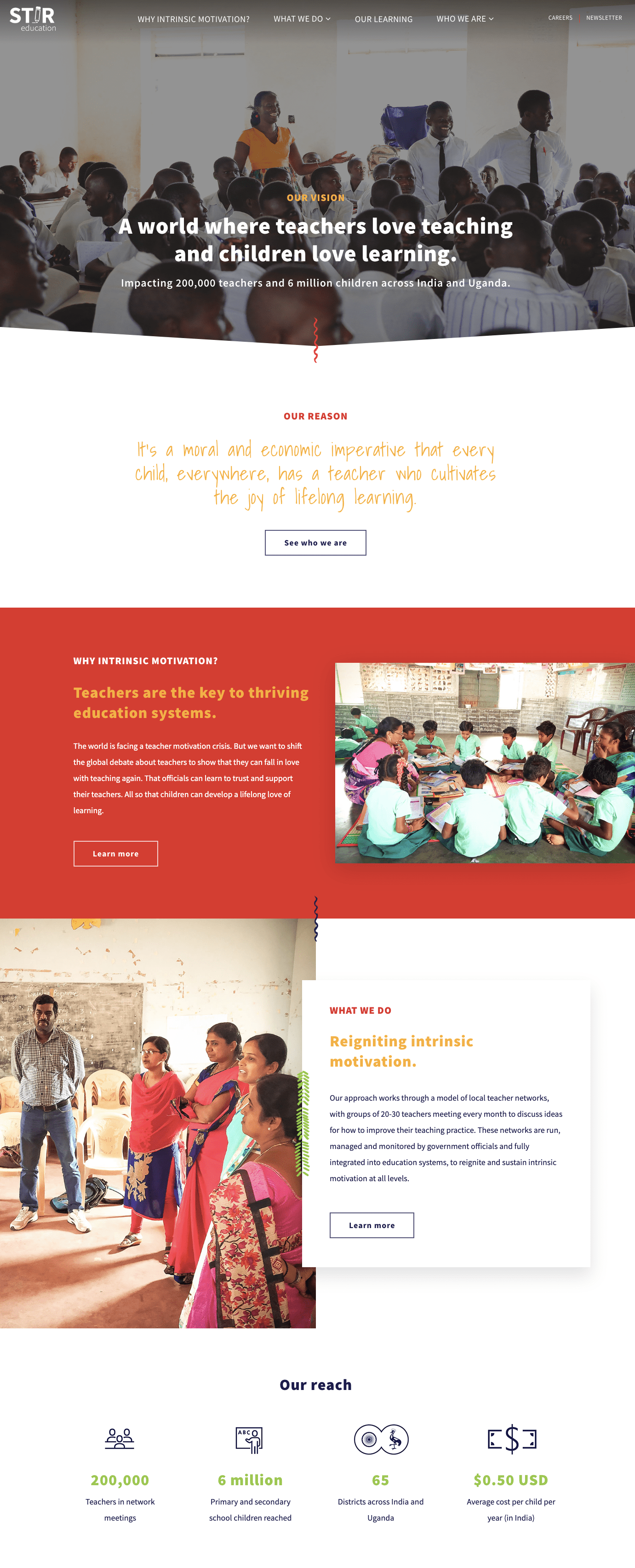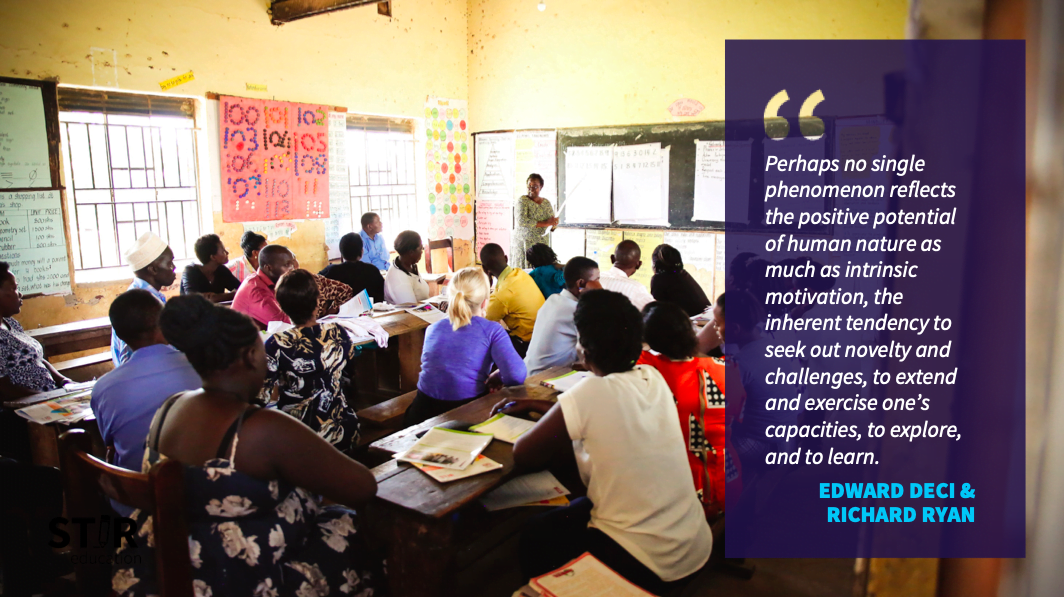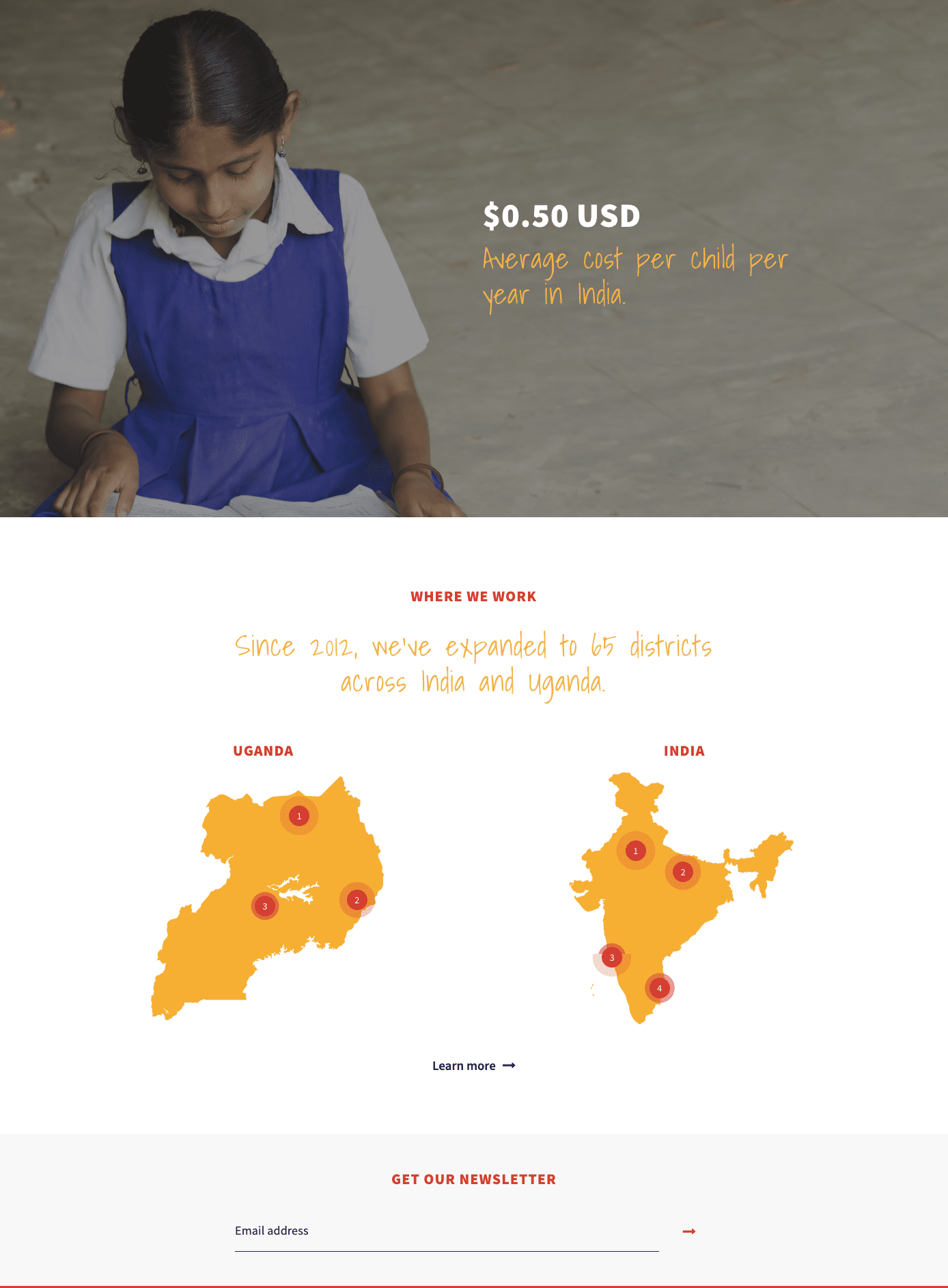 "We've always struggled to clearly communicate our model, but now funders comment that our products are easy to consume and understand. Mighty Ally's support has been integral to developing our internal comms capacity to lead further developments ourselves."
NITHYAMBIKA GURUKUMAR, HEAD OF STRATEGIC COMMUNICATION
Scaling to new countries.
It's never easy for an NGO to survive the proverbial "valley of death" – going from proven program to scale, with the funding required to fuel that growth. But powered by a committed staff, solid strategy, and a brand and comms plan – STiR is now expanding into new countries and surpassing the $5MM funding mark.
Over the past 18 months, STiR has grown from 75,000 teachers and 2.6 million children to a current reach of 200,000 teachers and 6 million children. And in the next year, STiR will be expanding relationships with additional countries and can anticipate more than doubling the teachers and children impacted.
Beyond programmatic reach and funding increases, STiR is getting heard loud and clear in the global education community for its unique focus on intrinsically motivated education systems. The STiR model is being proclaimed at high-caliber events like the Brookings Institute UNGA week panel and a TED Talk.
At a micro level, digital engagement stats have proven the efficacy of strategic comms – and a solid ROI on the investment. In the month following the website launch and kicking the comms efforts into full gear, users and sessions were up nearly 40% each, pageviews increased 18%, and social media referrals exploded by 1,357%.
STiR's investment in their brand has added additional fuel to the fire of their work. They're well on their way towards realizing their vision: a world where teachers love teaching, and children love learning.
Children served (up from 2.6 million)
Teachers participating (a 166% increase)
Increase in leadership clarity & confidence in 16 months
Spike in social media traffic in one month
Invitation to join the UN SDG 4.7 working group